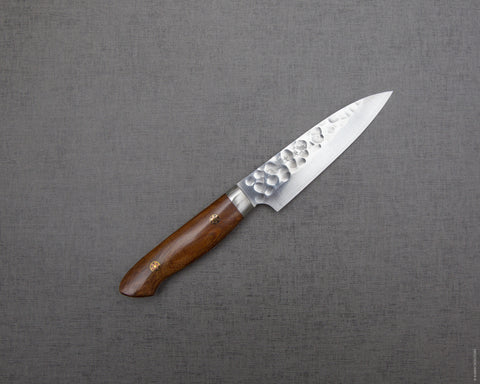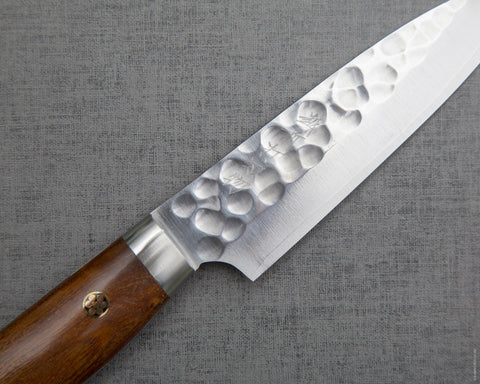 Yoshimi Kato R2/SG2 Tsuchime 135mm Petty with Ironwood Handle
Pickup currently unavailable
Handcrafted Kato Yoshimi R2/SG2 petty with a Tsuchime (hand hammered) finish, and an equally special limited edition hand-crafted desert ironwood handle made by the renowned Japanese knife handle maker Sadao Nishihara.
Spec:
Origin (Made in): Echizen, Fukui Prefecture, Japan
Brand: Yoshimi Kato
Craftsman: Yoshimi Kato
Knife Type: Petty
Blade

Construction: San Mai
Grind: Double-edged Blade (50/50 Grind)
Hagane (Core Steel): R2/SG2
Jigane (Cladding): Stainless Steel
Hardness: 63 HRC
Hand-forged, hand-grinded, hand-sharpened

Blade Finishes: Tsuchime (Hammered)
Blade Length: 135mm (5.3")
Blade Height (at heel): 33mm
Spine Thickness

Above heel: 2.0mm
Middle: 2.0mm

Handle

Craftsman: Sadao Nishihara

Shape: Western-shaped
Material: Desert Ironwood

Bolster: Stainless Steel
Length: 106mm

Overall Length: 236mm
Weight: 123g (4.34oz)
Hand Chiselled Mark: In Japanese Kanji "Echizen Forged Knife" (越前打刃物)

About Yoshimi Kato 加藤 義実
Yoshimi Kato (aka. Yoshimi Katou) is a renowned blacksmith in Echizen, Fukui Prefecture, and the 3rd generation Kato. Head of Kato Uchihamono, formerly known as Kintaro, Mr. Kato has apprenticed under his father - 2nd generation blacksmith - Hiroshi Kato for many years before taking over the family business. Mr. Kato is a master of heat-treating high-end steels such as SG2 and Aogami Super. His hand-forged Damascus is mesmerizing and his tsuchime finish aesthetically pleasing. Kato knives have a great reputation for being the finest example of Echizen craftsmanship.
Care:
Wash and dry with a soft sponge, and safely store after use. Avoid cutting into bones, frozen foods, hard fruit pits.
Cutting Surface:
Recommended cutting surface: wood, rubberized boards and high-end composites, and quality plastics such as polyethene make acceptable cutting surfaces, and will help protect and prolong knife's edge. AVOID glass, metal, countertops, and other rigid, non-forgiving surfaces.
Sharpening:
We recommend sharpening all quality Japanese knives on whetstones, as we believe they yield the best results for your knives.